Scratch and Dent Repairs in Vaughan, North York & GTA
Scratch and dent repair is among the most popular services at Modern Automotive, and it's understandable. Scrapes, dents and scratches not only decrease the resale value of your vehicle, but also reduce its curb appeal and are very difficult to ignore.
Many times, do-it-yourself repairs can get messy and expensive end up looking unprofessional. Don't worry! Trust our fully trained auto body painters and repair specialists, as well as repair estimate experts to get the job done right.
Our collision repair center offers free estimates to return your vehicle to "like-new" condition. We will also explain what repair techniques would work best in your case and keep you informed about the entire repair process. No dent, scrape, or scratch is too small or too big.
How much does it cost to repair a car scratch?
Simply put, the cost of car scratch repair will vary with the extent of damage. Scratches can spoil a beautiful vehicle finish, let alone stress you out as a car owner. Worse still, paint scratches can rust or corrode quite quickly if not repaired properly. The best remedy is to repair the damage professionally as soon as possible. Sure, you could go with a DIY approach – but why not do it right from the start? At Modern Automotive, we'll inspect your damage and provide you with a free estimate – call 905-660-6100 for more information.
Can you paint over scratches on a car?
If you paint over a vehicle scratch yourself, it will never look as good as a professional car scratch repair. Retail "scratch kits" and online instructions are, at most, an adequate remedy for vehicle scratches. Yes, it's a way to save some money in the short term, but it's still a very burdensome chore with questionable results. Professionals can assess the depth and severity of a scratch, and offer the best approach for achieving the best results. Do-it-yourself results often require a redo.
Can all dents be repaired?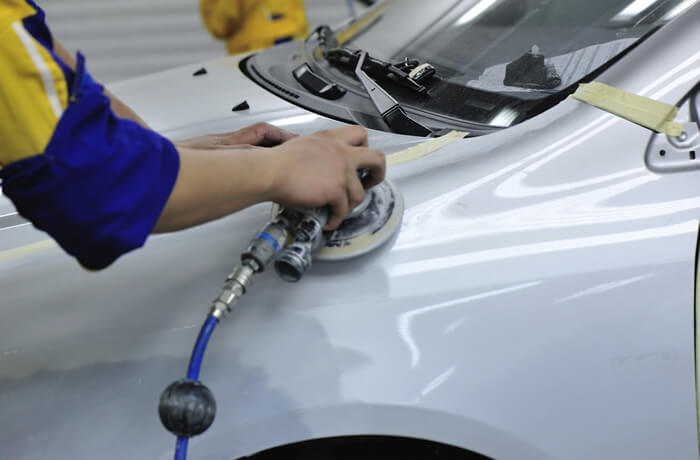 Eventually, your vehicle will experience a dent – in a parking lot, on the road, even in your own driveway. Whether it's dent repair or car scratch repair, proper restoration is the best approach. Some vehicle owners may think that minor dents can be remedied with a DIY technique. The truth is, auto body professionals are skilled and experienced with this work. They can also assess the scope of damage accurately – especially because of today's advanced vehicle body materials.
How do you fix dents in a car?
No driver wants to be driving around with an ugly dent – and today, repairs can get costly (like everything that requires skilled labour). On the Internet, there are countless DIY options for dent repair and car scratch repair, and of course, they make it all look really easy. The bigger question is why not do it properly from start to finish? Unlike amateurs, professional auto body specialists understand how to fix all body materials – from aluminum, carbon fibre, fiberglass, to steel.
The benefits of dent repair
Whether your vehicle has dents from a minor accident or a hailstorm, it's better to repair than postpone. When it comes to car dent repair or car scratch repair it's worthwhile to properly fix.
if vehicle appearance is important to you, then fixing up a dent or scratch is a clear option – and fixing things up professionally will deliver the best results overall
if your vehicle strategy is to re-sell or trade-in sometime in the future, then you definitely going to repair any type of damage – anything short will affect the price
if the dent or scratch has broken through the paint sealant, you certainly want to prevent any rust or potential corrosion from developing (and not just for looks)
Vehicle damage, whether a dent, scrape or scratch, is going to affect more than just appearance. When unattended, these types of damages can quickly get worse, and cost much more to repair.
Stop by Modern Automotive to get your free dent and scratch repair estimate. In minor cases, dents could be fixed with our Paintless Dent Repair service, which gets the job done without paint refinishing.