Scratch and Dent Repairs in Vaughan, North York & GTA
Scratch and dent repair is among the most popular services at Modern Automotive, and it's understandable. Scrapes, dents and scratches not only decrease the resale value of your vehicle, but also reduce its curb appeal and are very difficult to ignore.
Many times, do-it-yourself repairs can get messy and expensive end up looking unprofessional. Don't worry! Trust our fully trained auto body painters and repair specialists, as well as repair estimate experts to get the job done right.
Scratch and Dent Repair FAQs
How much does it cost to repair a car scratch?
Simply put, the cost of car scratch repair will vary with the extent of damage. Scratches can spoil a beautiful vehicle finish, let alone stress you out as a car owner. Worse still, paint scratches can rust or corrode quite quickly if not repaired properly. The best remedy is to repair the damage professionally as soon as possible. Sure, you could go with a DIY approach – but why not do it right from the start? At Modern Automotive, we'll inspect your damage and provide you with a free estimate – call 905-660-6100 for more information.
Can you paint over scratches on a car?
If you paint over a vehicle scratch yourself, it will never look as good as a professional car scratch repair. Retail "scratch kits" and online instructions are, at most, an adequate remedy for vehicle scratches. Yes, it's a way to save some money in the short term, but it's still a very burdensome chore with questionable results. Professionals can assess the depth and severity of a scratch, and offer the best approach for achieving the best results. Do-it-yourself results often require a redo.
Can all dents be repaired?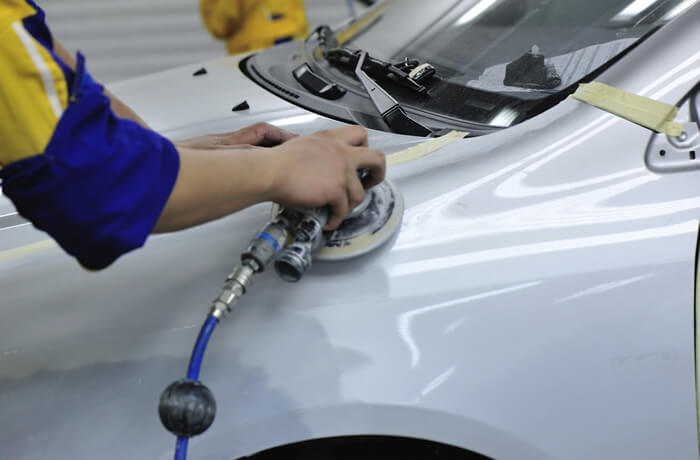 Eventually, your vehicle will experience a dent – in a parking lot, on the road, even in your own driveway. Whether it's dent repair or car scratch repair, proper restoration is the best approach. Some vehicle owners may think that minor dents can be remedied with a DIY technique. The truth is, auto body professionals are skilled and experienced with this work. They can also assess the scope of damage accurately – especially because of today's advanced vehicle body materials.
How do you fix dents in a car?
The process starts with a simple car wash and dry to remove road tar, wax, or any other contamination. Then the dent is assessed closely to identify the nature of repairs (whether it's paintless dent repair or regular repaint).
If the dented panel needs to be repainted:
First of all, we will make sure that the colours we have match those on the vehicle.
Our preparation department masks the car to prevent primer overspray.
We will then grind the dented area to the metal and pull the dent out at our repair station.
Once the metal is properly shaped, we apply a light coat of body fuller, and once that is dry, we are ready to block the filler and move on to the next stage: primer application.
Once primer is applied, (for which we only use OEM approved paint) we will start the drying process using infrared lamps.
For smaller repairs, we use an advanced UV primer (European technology) that allows for faster drying times and better quality repairs.
When the primer is set and the surface is straight, we will move the vehicle to the paint booth where we will re-tape and mask the vehicle again.
Once the vehicle is masked and fully covered, we will start the spraying process at a temperature of 25-30 degrees Celsius.
We apply the colour with a clear coat to prevent damage from UV lights.
Once painting is done and the last clear coat is applied, we will immediately start baking at 145 Fahrenheit for 30 minutes.
After the car cools down, we will reassemble the removed parts, including door handles and other disassembled parts.
Finally, once this process is complete, we will give the car a final wash and inspect the work before we bring it back to the customer.
Is dent repair expensive and how long does it take?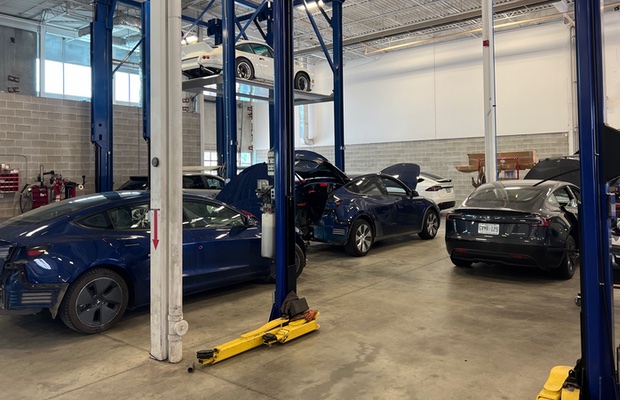 Some dents are harder to fix, which may take longer and require more expertise (especially if we're talking about aluminum panels). The price of the repair usually depends on how damaged the car is and how much work it will need. Every dent is unique, so it is best to discuss the repair up front with the auto body shop and they'll give you an accurate estimate upon inspection.
Do I get a replacement car if I leave my car at the repair shop?
Many auto body repair shops do not offer a replacement car, but here at Modern Automotive, we know how much of an inconvenience it can be to not have a vehicle at your disposal, especially today when we depend on our car so much. Also, we offer a shuttle service and free towing anywhere within 20 km of our collision center.
Are there any colours you can't match?
We can match any colour with our advanced paint scanning camera that gives the exact colour of your car.
Are there situations where I would have to fix the entire car?
It is possible that, if you've been involved in a collision, there is some hidden damage in the frame or undercarriage, which would require more extensive repairs.
Is it better to fix the affected or replace?
That depends on the level of damage. If you have a minor dent, then it is always better to repair, but if there is more significant damage such as tears and rust, then you may be better off replacing the vehicle.
What's the difference between repair shops? Is it the price or the technique?
Different shop use different paint materials and technology. As a rule of thumb, look for those who use paint approved by OEM, which guarantees that the paint used on your car is top quality. Always ask these questions when choosing an auto body repair shop:
Ask them what steps are they taking to ensure that the repair is done correctly?
Are they using OEM paint?
Will they give you a lifetime warranty for the repair?
What's the warranty? What happens if it starts peeling off?
Different repair shops offer different warranties, and this is something you should definitely keep in mind when choosing who will do the repairs. We offer a lifetime warranty on all our repairs and we offer a 100% guarantee that the repaired paint won't start peeling or lose shine.
Does the hot water dent repair actually work?
On certain occasions, it does. For example, this works on certain bumper repairs where the warmed up plastic is easy to shape into its original condition.
Can you fix a dent with rust?
If you have a dent and the panel is starting to rust, it's time to take action. Our auto body shop will give you a free estimate and determine if the part can be repaired or changed. The bad thing about rust is that we cannot guarantee that it won't come back after the repair. The best way to ensure you get rid of it is to take your car to an auto repair shop as soon as you notice it.
The benefits of dent repair
Whether your vehicle has dents from a minor accident or a hailstorm, it's better to repair than postpone. When it comes to car dent repair or car scratch repair it's worthwhile to properly fix.
if vehicle appearance is important to you, then fixing up a dent or scratch is a clear option – and fixing things up professionally will deliver the best results overall
if your vehicle strategy is to re-sell or trade-in sometime in the future, then you definitely going to repair any type of damage – anything short will affect the price
if the dent or scratch has broken through the paint sealant, you certainly want to prevent any rust or potential corrosion from developing (and not just for looks)
Vehicle damage, whether a dent, scrape or scratch, is going to affect more than just appearance. When unattended, these types of damages can quickly get worse, and cost much more to repair.
Stop by Modern Automotive to get your free dent and scratch repair estimate. In minor cases, dents could be fixed with our Paintless Dent Repair service, which gets the job done without paint refinishing. Our collision repair center offers free estimates to return your vehicle to "like-new" condition. We will also explain what repair techniques would work best in your case and keep you informed about the entire repair process. No dent, scrape, or scratch is too small or too big.