Paintless Dent Repair and Hail Damage in Vaughan, GTA & North York
With paintless dent repair (PDR), you can get rid of shallow or minor dents on your vehicle body, without repainting your vehicle. Of course, in order to be successful, the paint finish must be intact. In case the paint is cracked or chipped, you may need to use our traditional dent and scratch repair services.
How does paintless dent repair work?
Today, with paintless car dent repair, those unsightly dents and dings on your vehicle can be restored easily and inexpensively. Whether you've had conventional hail damage, or a rather large indentation, paintless dent repair may work (as long as paint isn't cracked).
With paintless dent repair (PDR), an area of indented vehicle metal is "pushed" back into shape without affecting the original factory paint. An experienced technician determines the best access to the damaged area, and proceeds to "massage" the metal into shape.
Using specialized tools, a technician can effectively repair dents and dings on the hood, doors, fenders, and even the trunk. For the most part, PDR is less laborious than your traditional auto body repair service. It therefore tends to be a less expensive option.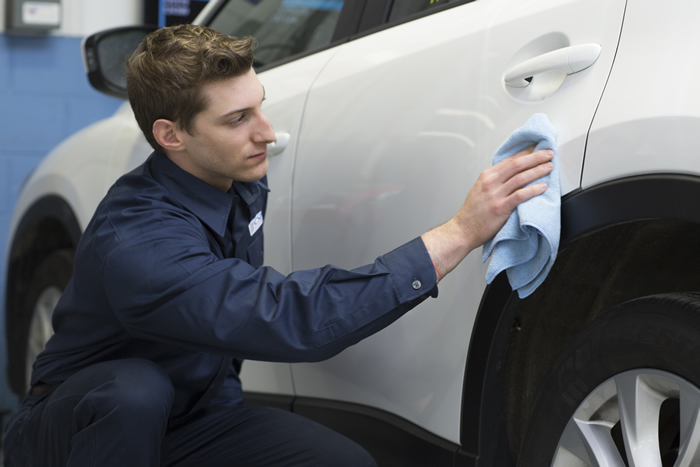 How much does it cost to get a car dent repaired?
Because PDR entails less labour at the shop, the procedure is much less expensive than the auto body repair option. PDR is industry-recognized as a body repair service, and is a great way to maintain the integrity of a vehicle body and therefore the resale value.
At Modern Automotive, we can assess your vehicle damage, determine if PDR will work, and provide you with an estimate for repairs. Call us directly at 905-660-6100, or use our convenient online option to "Book Service".
Can all dents be repaired?
With PDR, an experienced dent specialist can repair most shallow dents or minor dents, without the need to repaint your vehicle. Naturally, for effective restoration, the original paint finish cannot be cracked or chipped – this would require traditional repair service.
PDR does have limitations, and in some circumstances, it's not feasible to use the option.
if the dent has any sharp edges or any torn metal
if the paint on the inside of the dent is scratched or broken
if the dented metal is located at the edge of a panel
if the dented area has had any previous body work
The Benefits of Paintless Car Dent Repair
In many cases, vehicle damage does not require extensive auto body repair. PDR offers an alternative that is both time saving and cost saving. But it takes skill, precision, and experience to successfully remove vehicle damage. That's why it's so important to work with a reputable auto body specialist, and an auto body shop that can deliver results.
At Modern Automotive, our facility is state-of-the-art. Our team of technicians are factory-trained and licensed, offering everything from car dent repair to full collision repair service. All of our work is warrantied and approved by the major insurance companies. When it comes to PDR, the benefits allow for a repair option that is both affordable and effective.
Significant savings
PDR is cost effective because there is no need for body filler, sanding, or repainting.
Great convenience
Depending on the scope of damage, PDR can often be completed in a few hours.
Value retention
Vehicles with their original paint job are typically worth more when its resell time.
Colour matching
With PDR, there is no need to paint or colour match, and no chance of mismatching.
PDR: The Bottom Line
Typically, paintless dent repair is used for hail damage, as well as creases, dents, and dings to hoods, doors, fenders, and trunks.
Most of the time, paintless car dent repair is less expensive and less laborious, as compared to traditional collision repair and auto body repair services. This industry-recognized auto body repair service is also a good way to increase the resale value of your car or truck.
For further information, contact Modern Automotive paintless dent repair services, we service all over the GTA including Vaughan, Richmond Hill, Markham, Toronto, Newmarket, Aurora, Mississauga, Brampton and more.