Collision, Auto Body and Car Paint Repair in Vaughan, North York & GTA
For a car owner, you need to maintain your vehicle from the standard oil change to keeping your tires properly inflated, is where it starts. But, when you have damage that is affecting the operation of your vehicle it could be the difference between an accident and safe operations of your car. If the problems are such that they need the attention of a fully qualified automotive service centre, your friends at Modern Automotive are ready to service your needs.
We work with your insurance company and our licensed auto body shop can do all the important collision repair and restoration your car needs to run efficiently and safely. Our techs specialize in collision repair work, car paint repair, dent repairs, scratches, bumper repairs, glass replacement, fender replacement, frame straightening and we have a salvage certificate too. We work on all cars and experience spans the entire auto industry. Let's restore your car to the condition it was in when you bought it, bring your car to us for the repair you need, guaranteed with our Lifetime Warranty.
Car paint and auto body repair estimates on all vehicle models and makes are available at Modern Automotive Collision Repair Centre. We work directly with the insurance provider to ensure you receive a hassle-free collision repair and restoration experience.
Modern Automotive is a single specialist that will take care of all your auto repair needs.
Repairs, what you need to know and why you need to know it
Bumper Repair or Replacement
You got into a fender bender at the mall or a parking lot and you have bumper damage – it may be a small thing really, and you are thinking that a repair isn't so important. But, think again, it is important for a number of reasons. A damaged bumper can the sign of more damage that lies just under the surface – locating it and correcting any problem that you don't see prevents future problems.
You have a foam-like substance under your bumper that can be rendered useless when pushed in – the foam substance is a shock absorber per se for a low impact crash. A car with a damaged bumper will cause the value of your car to erode and that is the last thing you want for your car – a small investment in the car can reap a good financial return when you sell your car.
Fender Replacement or Repair
Many times when you are in an accident, the bumper and fender will sustain damage. Both are working together to mitigate the force of impact, but they work independently. To understand the role of both, know that your bumper is affixed to the front of your car – the fender, on the other hand, is affixed to the frame of your car. Both require different methods for repair or replacement and for a fender, you need the services of a qualified service tech to know when the bumper can be saved or needs to be scrapped. What it comes down to here is the severity of the damage that the fender has sustained – small dents or superficial damage can be repaired to the point that you wouldn't know that the fender had damage.
When you have a larger sized dent in your fender, you may need a replacement fender – structural damage may be lurking under the damaged area that could affect the frame and that is something to be avoided at all costs. But you won't know about the problems until you bring your car to the Modern Automotive collision repair centre for evaluation.
Frame Straightening and Repair
The most important part of your car, truck or SUV is something you never have seen, but your life depends on, the frame of your car. Without a solid frame to ride on, you are tempting fate in a bad way – that is why you need your frame to be straight. If you have been in an accident, one of the first things our collision repair shop will do is look at the frame to make sure no damage has occurred – your unibody frame is what holds the car together. The work to get your frame repaired or straightened is very meticulous and not everyone has the expertise or equipment to do it right.
At Modern Automotive we have the latest equipment to bring your ride back to the glory it once enjoyed before the accident. Driving with frame damage puts your occupants and other cars on the road in peril and it has never been more important to have the frame checked after any type of collision. Frame repair and straightening is a specialty service that we at Modern Automotive offer, and we have produced excellent results for our customers.
Glass Replacement
Your windshield is a stabilizer for the top of your car and helps maintain the structural integrity of automobile – if you have a damaged windshield it could compromise the integrity. In an accident situation, if your frame is bent, it will cause windshield damage, flying debris from rocks and stones. A poor windshield installation can be the cause of windshield damage too. An obstructed view can be dangerous and there are fines for driving with a faulty or damaged windshield.
Some windshield damage can be repaired if the crack is small enough it can be lifted – if the crack is bigger than a five-dollar bill it means a replacement. In any event of damage to your windshield, you should have professional assessment – once a small crack starts it is inevitable that it will grow increasing the risk to you and your passengers. Bring your windshield problems to us at Modern Automotive and we can take the sting out of the problem and keep you in a safe reliable vehicle with a clear view of the road.
Salvage Repair and Certificate
When a vehicle registered in Ontario it has to pass a safety inspection to determine if it is road worthy. In many cases, a vehicle will pass the safety check and the owner will be able to register the automobile and put license plates on it. But in some cases, vehicles that have been in accidents can be repaired and registered. In other cases, the vehicle can be 'branded' as 'salvage' – meaning that is can be repaired or rebuilt. If it passes the structural check that is part of the overall safety check, it can be certified and re-branded as 'rebuilt'.
An insurance company will determine if an automobile is a write-off based on the cost to repair the automobile balanced by the work of the auto when the repair is complete. At that stage, the car is branded as 'salvage' it can't be registered until it clears the safety check, and you receive a safety certificate from a licensed shop. At Modern Automotive we can repair your totaled auto to where it was
Car Paint Repair
Modern Automotive uses OEM waterborne paint technology in all the auto body repair and car paint services. We guarantee a seamless colour match for all vehicle models and makes.
Here's how it works.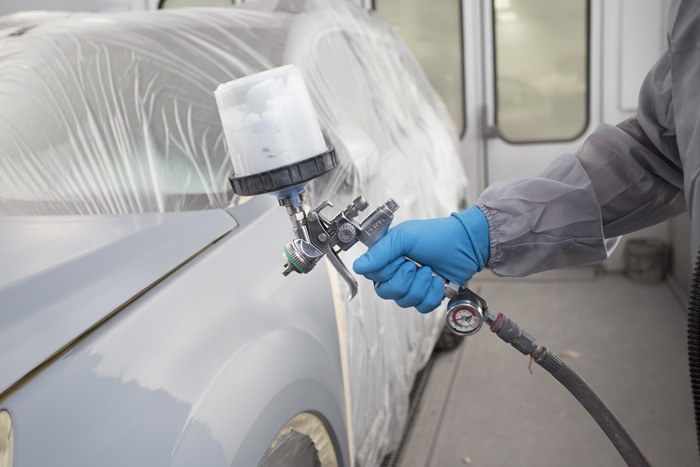 Simply bring your vehicle in to Modern Automotive, and we will give you a free estimate that breaks down all the services you may need.
Our skilled auto body repair technicians will get rid of any scratches or to prepare the surface for the best possible finish. Then, we further prepare the surface of your vehicle to hold the new paint tightly, without any undesired cracks or peels.
The next step is to seal the vehicle over top of the old paint to ensure that it will not interfere with the new paint job.
Next, we paint with our waterborne paint technology. Finally, we gloss the surface to ensure a seamless paint colour match. For further information, contact Modern Automotive collision repair center, we provide service all over the GTA including Vaughan, Richmond Hill, Markham, Toronto, Newmarket, Aurora, Mississauga, Brampton and more.